Good news! Your vagina is a self-cleaning organ thanks to the naturally occurring vaginal flora. This is your unique ecosystem with millions of bacteria that keep your vagina healthy and clean. They keep the acidity balanced and make sure you don't get any intimate ailments. A beautiful feat of Mother Nature
You've probably heard that you shouldn't use intimate soap 'down there' and only wash with water. But is that true? Is it possible to still get a clean and fresh feeling without damaging the protective bacteria? We found out in our lab.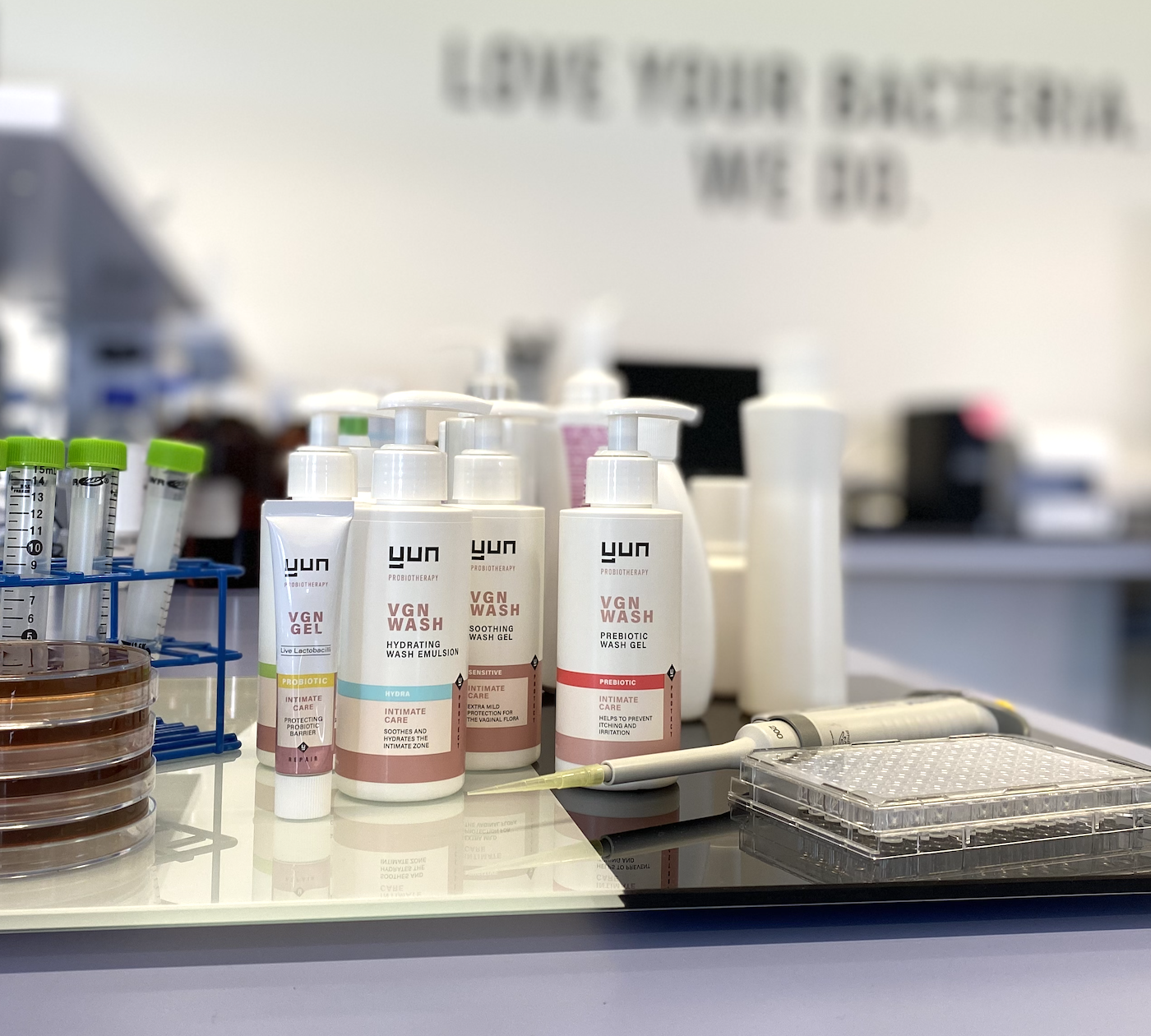 A healthy intimate microbiome is very important: it cleans the vagina, keeps the pH balance healthy and protects you from bad bacteria. So you avoid a lot of vaginal ailments like odor, infections, itching and irritation.
But how can you get a clean and fresh intimate feeling without damaging its protective bacteria? Because well ... after all, does soap contain anti-bacterial ingredients and preservatives? In short, is there such a thing as microbiome-safe intimate soaps that are as safe as water?
To investigate this, we did a microbiological analysis* in our lab. We compared the most common intimate soaps on the market with water and our YUN VGN washing gels.
*To see the impact of these soaps on our vaginal microbiome, we simulated the average shower under controlled and standardized conditions. By putting selected bacterial strains (in this case vaginal Lactobacilli) in contact with a diluted soap, we were able to measure the effect on the growth capacity of those bacteria.
We are proud to say that YUN VGN Hydra scores as well as water!
Even if you only use water to wash, all the important bacteria are affected, and the vaginal microbiome always needs time to recover. Preferably as soon as possible to avoid an overgrowth of bad bacteria (and thus vaginal ailments).
With classic soaps, it was noticeable that some bacteria had completely died off after immediate use and it even took up to more than 2 days (!) until these important vaginal lactobacilli were present again.
YUN's intimate care does work in harmony with the intimate microbiome and is the only one as safe as water! (See graph)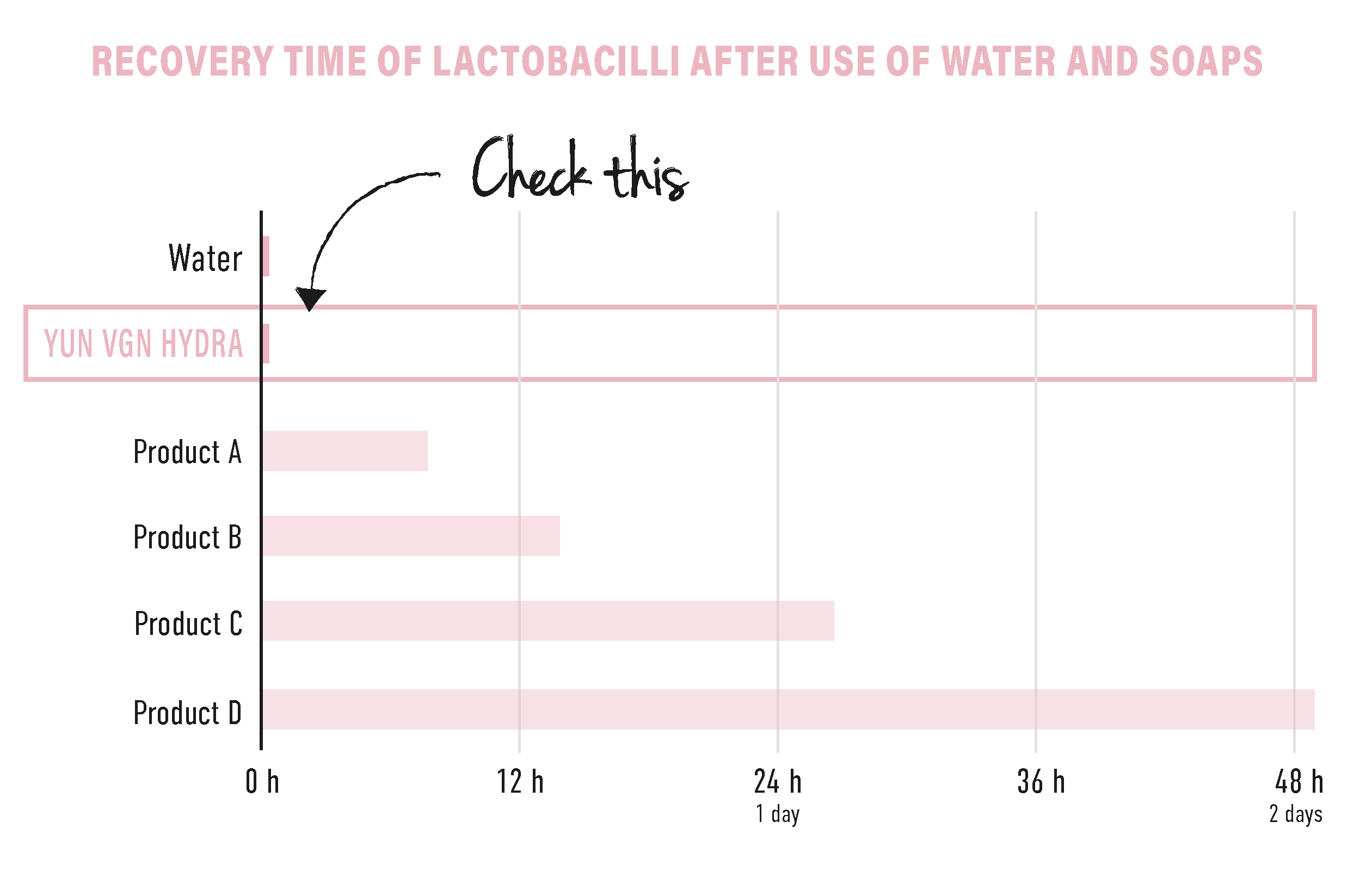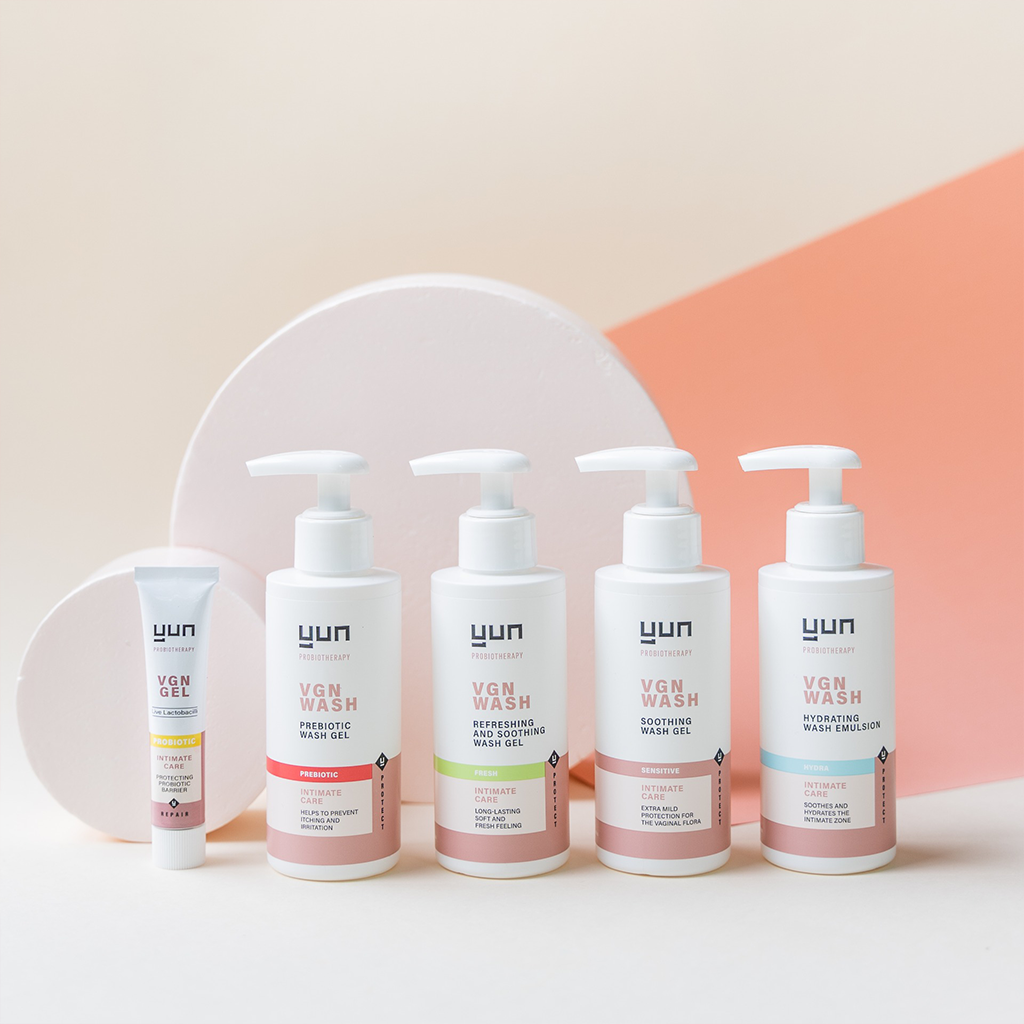 Can you refresh your intimate zone and boost your pH balance without damaging protective bacteria?
Yes, thanks to YUN's intimate care that does work in harmony with the intimate microbiome.
Together with the University of Antwerp, we carefully selected all ingredients, from surfactants to preservatives in function of the vaginal microbiome.
Even better: with the VGN PROBIOTIC REPAIR Gel, you can now even add millions of those same protective bacteria that strengthen and restore the vaginal flora, helping to prevent irritation. Furthermore, you prevent the growth of harmful bacteria by pH-reducing lactic acid in the VGN wash gels. This way, you immediately build the optimal environment for good bacteria.
Unieke technologie
met levende lactobacillen
actieve ph-regulatie
via lactaat
Veilig tijdens zwangerschap
of borstvoeding
Unieke technologie
met levende lactobacillen
actieve ph-regulatie
via lactaat
Veilig tijdens zwangerschap
of borstvoeding






THE IMPORTANCE OF LACTOBACILLI FOR A HEALTHY PH
The low pH of the vagina keeps problem-causing bacteria from growing. This is why you should use a microbiome-safe wash gel with a low pH down under. In fact, classic intimate soaps can disrupt the pH of your vagina, which does allow bad bacteria to develop.
The lactobacilli in and around your vagina play a vital role: they produce lactic acid and keep the pH low and balanced - between pH 3.8 and 4.5. The active pH regulation of the YUN wash gels creates an ideal environment. By promoting the growth of lactobacilli on the one hand and inhibiting the growth of pathogens on the other, you reduce the risk of infection, itching and irritation.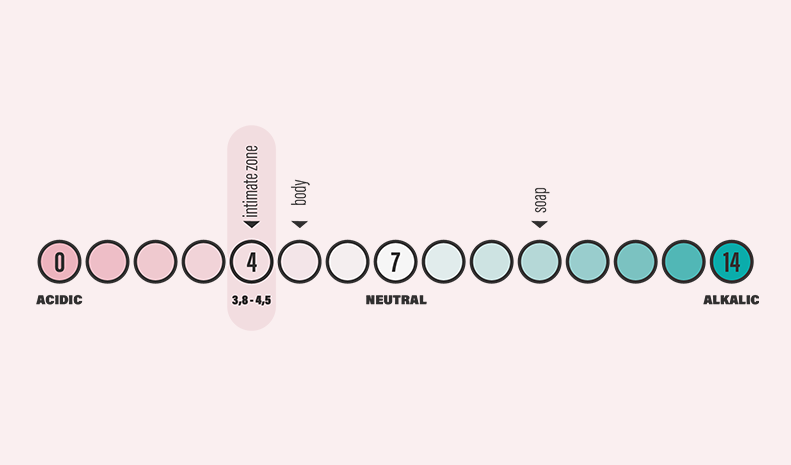 TANJA
"Since I have been using this wash gel, I no longer suffer from annoying fungal infections."
ELINE
"Best wash gel ever: odorless, colorless, and above all no irritations or smells!"
NINA
"VGN does what it promises. I regularly suffer from a disturbed pH with the accompanying irritation/itching. Not aggressive at all like other intimate wash gels."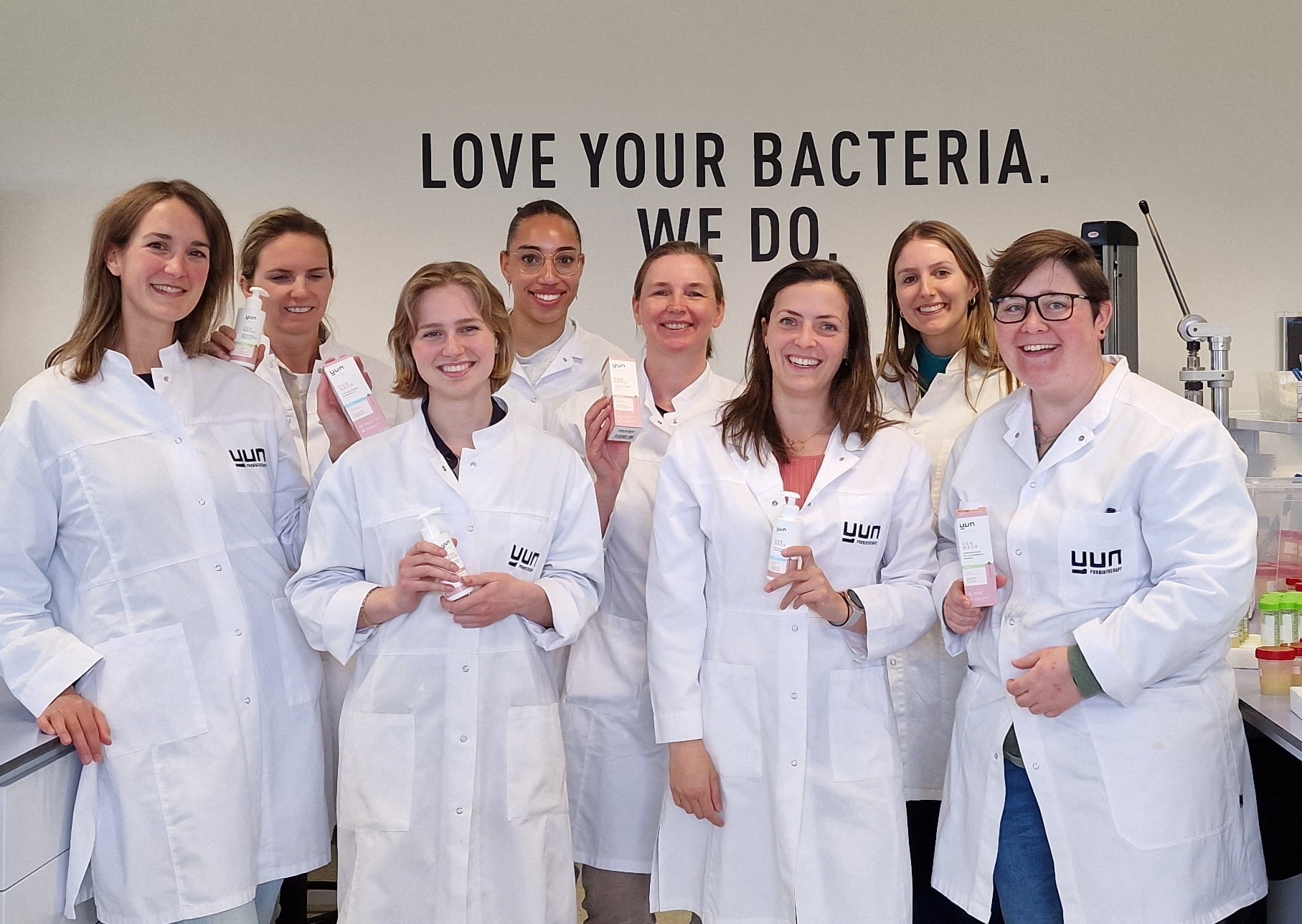 MADE BY WOMEN AND FOR WOMEN
With the challenge of developing a healthy intimate routine, the women in our research team knew what to do. With their extensive knowledge of vaginas and vulvas down to the smallest microscopic detail, they developed our VGN range. Thus, YUN VGN helps prevent intimate discomfort, protect, strengthen, and restore the delicate balance of the vaginal microbiome. If that's not a feat of femininity, we don't know what is!
Meanwhile, our agenda is overflowing with flashy innovations for the needs of the (female) microbiome. No wonder, with so many talented professionals and bright masterminds together. If you would like to stay informed about our challenges, be sure to subscribe to our newsletter at the bottom of the page.
PROBIOTICS FOR YOUR VAGINA, UNIVERSITY OF ANTWERP AND YUN PROVED IT WORKS!
For the very first time, the ISALA project investigated the intimate microbiome under the leadership of Sarah Lebeer, Professor at the University of Antwerp, microbiologist and bioengineer at YUN. Using state-of-the-art DNA technology, they proved that the bacteria in the vagina are vital.
The study found that bacteria ensure a healthy balance in the vagina, allowing it to maintain its natural self-cleaning properties.