Ever had a pimple flare-up just when you're trying out a new skincare product? No need to stress! Although it may seem contradictory, this happens more often than you think. It is often described as "skin purging". Read on to find out what skin purging looks like and how it differs from a regular breakout.
Your stratum corneum, consisting of dead skin cells, forms the outer layer of your skin. Your body systematically gets rid of old, damaged and polluted skin cells and replaces them with fresh, young cells. This process is called exfoliation. Skin purging can occur when you use a skincare product with a specific exfoliating ingredient, a substance that speeds up cell renewal, such as salicylic acid. These exfoliating ingredients shed the top layer of dead skin cells faster, causing new skin cells to regenerate more quickly than they would on their own, which can bring blockages to the surface and cause irritation and blemishes. This makes it look like an acne flare-up at first.
Skin purging is also all about your microbiome, the microscopic rainforest of fungi and bacteria that covers all of your skin. With a new product, you influence the composition of your skin microbiome, allowing the bacteria that cause acne (Staphylococcus aureus and Cutibacterium acnes) to take over. To naturally fight these bacteria, ACN PROBIOTIC REPAIR Cream adds probiotics, lactobacilli in this case. Lactobacilli are living good bacteria that naturally fight acne. When the lactobacilli try to restore the skin's imbalance, the other bacteria boost their defences to try to survive. This can make your skin go red (literally) for a while. After a while, the lactobacilli settle in better and your skin starts to recover from the attack. You will see the pimples slowly disappear, while your skin microbiome slowly slips into a healthy balance!
Skin purging can happen to anyone, but is more common if you have acne, as the microbiome is already out of balance and you are more likely to suffer from blocked pores caused by sebum.
HOW LONG DOES
SUCH AN OUTBREAK LAST?
The good news is that skin purging is a temporary phenomenon and is also a good indicator that products are working effectively! Be sure to give your skin the time it needs to go through the whole cycle, which should take about 4 weeks. After all, every skin and microbiome is unique, so it is possible that you will not be affected at all or that you will have to be patient for 6 weeks. If your skin is still not balanced after that period, there might be another problem and you should make an appointment with your dermatologist.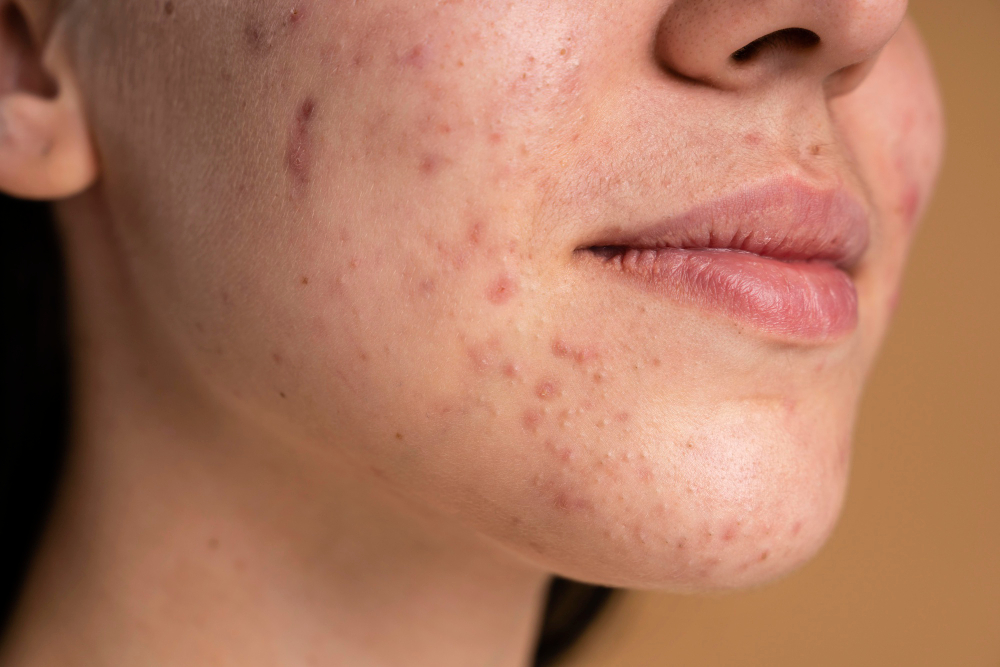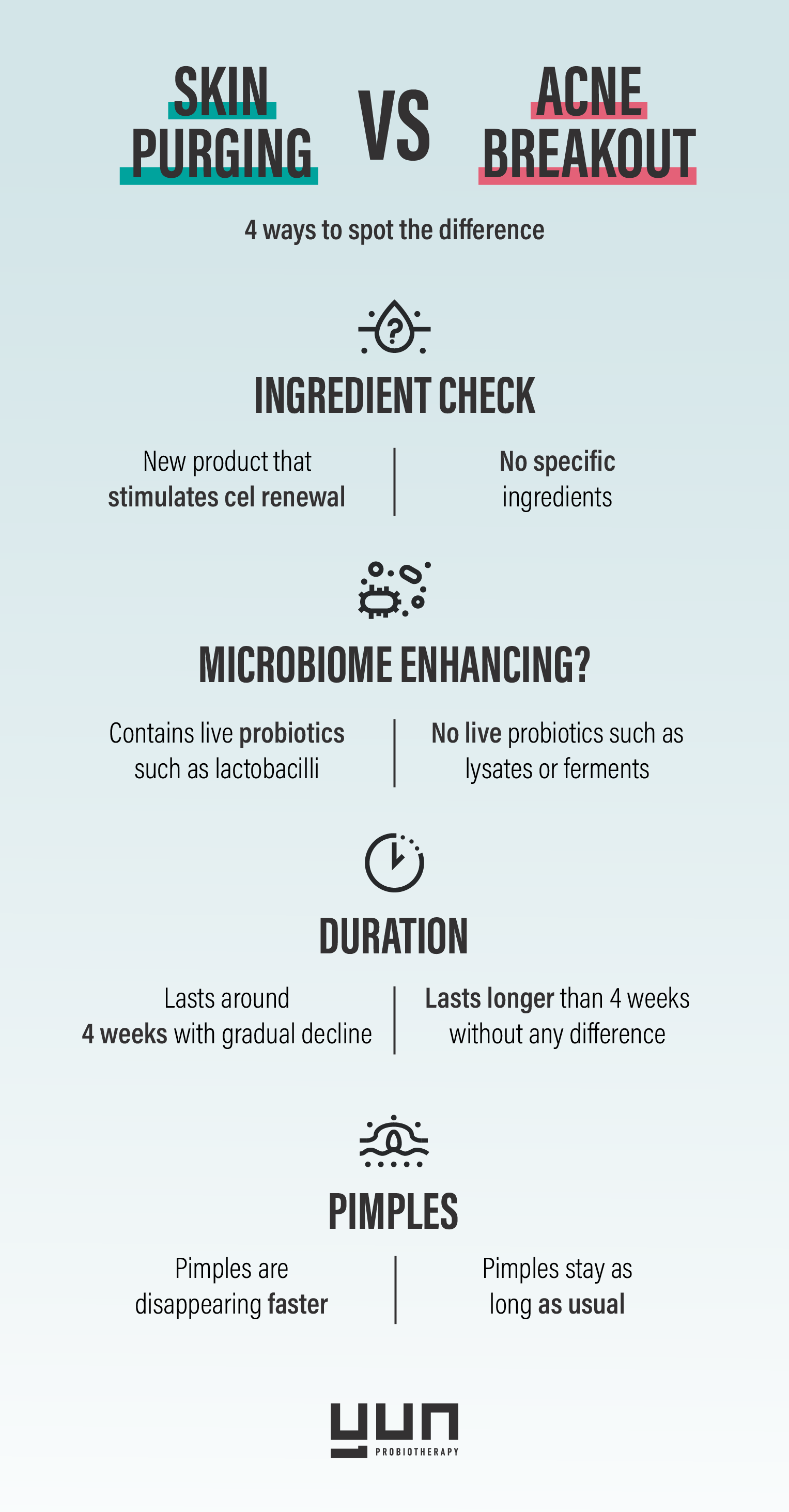 ACNE BREAK-OUT VS SKIN PURGING
This is how you can tell if your breakout is the result of skin purging:
Are you using a (new) product with ingredients that stimulate cell renewal? Then you are probably dealing with skin purging! Think of substances like retinoids, salicylic acid or hydroxy acid. They stimulate the production of new skin cells and push the blockages in the pores to the surface of the skin.
Are you using a (new) product with live probiotics that rebalances your microbiome? Then the chances are very high! Because they are living, they can actively restore the balance. If your product doesn't contain live bacteria (such as lysates or ferments), it may indicate a regular breakout, meaning that the product is not effective enough to make acne symptoms disappear.
After 4 weeks, do you notice no difference at all or have the symptoms worsened? Then you may be using a product that does not match your skin microbiome or skin type. Skin purging is usually caused by active substances to which you can react immediately, but which should also disappear after a while. Make sure your skin does not relapse with new symptoms. Please contact us and together we will find the right solution for your skin!
The pimples that arise through skin purging appear and disappear a lot faster than normal pimples. They can sometimes appear a bit more severe than a typical breakout. In general, normal pimples take 8 to 10 days to appear, mature and shrink.
Fast. Effective. Safe. An all-in-one therapy that effectively fights acne symptoms and pimples. And with the power of good bacteria! The combo of live bacteria and microbiome-safe ingredients ensure that your skin naturally regains its healthy balance without pimples.
TACKLES PIMPLES QUICKLY & EFFECTIVELY
100% VISIBLE IMPROVEMENT AFTER 4 WEEKS